The White Hart
The hotel was built upon the site of the old White Hart in 1840s; there has been an inn or hostelry on the site for centuries. The yard at the rear of the hotel once held the Sleaford wool market and hosted Lincoln Cathedral's famous bell, Great Tom, for a night on its journey to be installed. The shop to the side of the archway has been at times a jewellers, a café, a men-and-boys' clothing shop and a jewellers again. In the early 21st century, the now somewhat dilapidated building was restored to its current condition.
1901, The White Hart Hotel – George Ranyard Lee
There has been a White Hart in Sleaford for centuries with the current structure having been rebuilt in the 1840s, with George as the proprietor. Although successful in itself, and having the advantage of housing the Sleaford wool market in its covered yard, it appears that this was only a part of his success. In partnership with the Green family he was the "Lee" in Lee and Green's Aerated waters, a large Lincolnshire-based company that had several factories in the county. The closeness of these families was such that George married his business partner's daughter and record show that members of both families resided and worked in the White Hart.
Click to locate the Heritage Trail Plaque:
W3W: verbs.retire.fried
The Trail Map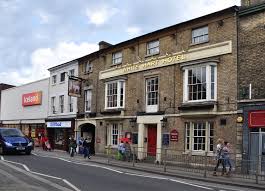 The White Hart