The Mansion House
Sleaford and Kesteven High School Ltd. was founded by a group of local businessmen and housed in 62 Southgate, a town-house constructed by local architect and builder Charles Kirk for himself in 1850. When teaching commenced, on 5 May 1902, the headmistress, Margaret Kate Lewer, presided over 23 pupils, including 8 boarders; by 1909, 62 girls were on roll and over the next quarter of a century, the numbers at the school increased to 350. Run by a board of nine directors with W. V. R. Fane of Fulbeck Hall as chair, the school operated independently until it was taken over by the local education authority in 1919.
As the school increased in size, buildings were added to its grounds. The first were wooden huts, installed shortly after the end of the First World War, which provided the school with an assembly hall, office space and classrooms. A brick block was completed in 1924, followed by an extension to the original house three years later. Kesteven County Council planned to rebuild the school in 1930, but this never came to fruition; instead, the school had to wait for prefabricated classrooms to be added in 1946–7.
1901, Mansion House – Mrs. Julia Kirk
Julia Kirk was the wife of Charles Kirk of Kirk and Parry. Kirk and Parry were architects of the highest order who designed and built the Whitehaven Docks and Liverpool Central Station. Their influence on Sleaford cannot be overstated – Sleaford Corn Exchange, the Northgate Almshouses, Alvey's School, Lafford Terrace, the Sleaford Vicarage and many, many more buildings were their works. The Mansion House itself was originally built as a home for the Kirks but, when they moved out of the town itself, the building was converted to a school – the Sleaford and Kesteven High School.
Click to locate the Heritage Trail Plaque:
W3W: return.drank.jaws
The Trail Map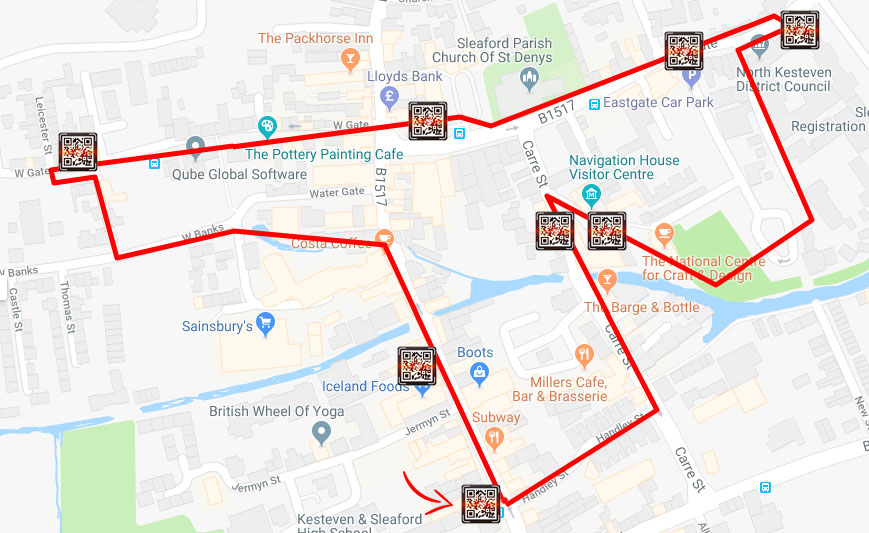 The Mansion House