The Carre Gallery
Built in the early 1800s as an outbuilding to the former George Hotel. Later, a shop front was constructed in what was the rear of the building that faced on to the newly created Carre Street. This operated as a bakery, with a bakehouse to what was originally the front but had now become the rear, for more than 100 years. After the closure of the bakery in the 1970's the building was restored and became the head office of Estate Computer Systems which has since grown into a leading international software company. More recently, the building was converted to an art gallery by the Sleaford Gallery Arts Trust.
1871, The Carre Gallery – Mrs. Hannah Wood
It is somewhat unclear when Joseph Wood opened his bakery. We do know that the building was originally constructed as an outbuilding to the George Hotel in the early 1800s and, at a later date, the shop front was put into what was the rear of the building, effectively turning it around and giving it a frontage on to what was the newly-created Carre Street. We meet Mrs. Wood in a time of change for Sleaford; closed sewers were in the pipeline for the tenements of Westgate, the railway was growing and as a result the Navigation was in decline. Large companies were coming to Sleaford, including international seed merchants, and the town's prosperity was growing.
Click to locate the Heritage Trail Plaque:
W3W: stops.grass.club
The Trail Map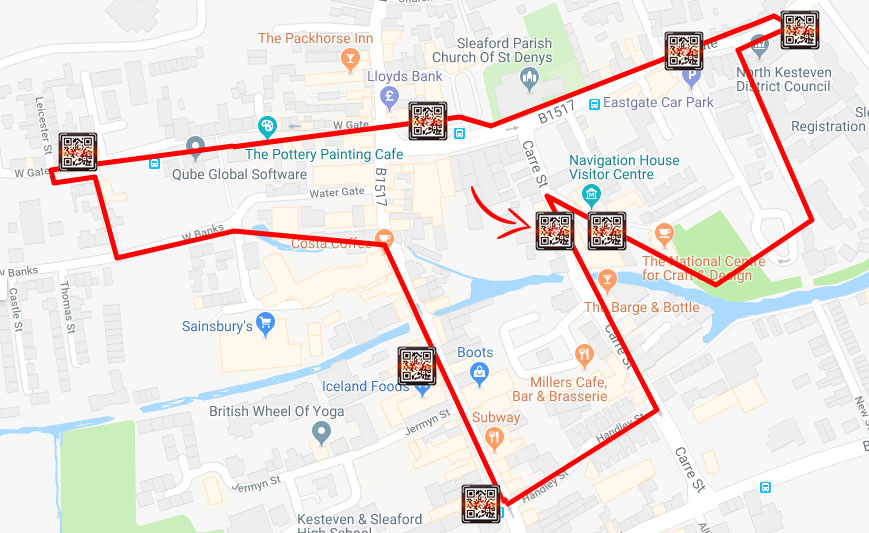 The Carre Gallery